Scree is a character from the webcomic, Neo Kosmos. She is a Sklik pirate and a member of the pirate crew with Triss & Red. So far, she's been seen destroying a telepad before being blocked out of Tye's sight by a closing door. She also talked to Triss about destroying the telepads, and during that conversation she seemed to be unnerved when Red's name is mentioned. Additionally, she has been seen trying to talk to Seven, though they could not reply to Scree.
Appearance
Edit
Personality
Edit
Bugs, sugar water, and candy.
Relationships
Edit
↵Scree has a big fat gay crush on Triss.
She is seven's new mother, because they do not have one.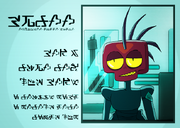 Scree's cast profile card is her employee ID from her old job.[2]
The text on her is a joke[3], it reads as follows:
SCREE
EMPLOYEE HGHHE KAHUE
SEX F
RACE RED
NOT SEXY
I REALLY WISH
I WERENT HERE
RIGHT NOW
Triss - Communicator - 5 pages - 565-569
References
Edit
Ad blocker interference detected!
Wikia is a free-to-use site that makes money from advertising. We have a modified experience for viewers using ad blockers

Wikia is not accessible if you've made further modifications. Remove the custom ad blocker rule(s) and the page will load as expected.