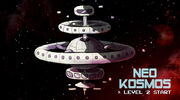 4.2.16 29 pages: 810-838

Seven wakes up.
They considers the dream/vision they had.
Seven's doctor, 9, arrives.
They attempt to express their concern about Tye and Z to 9.
9 dismisses the vision, assuring Seven that "Everything is under control."
Seven becomes frantic.
9 drops food for Seven.
9 leaves Seven alone in the dark.
Bonus Material
Edit
Neokosmosstuck
Edit
A non-canon April Fools' Day troll AU Homestuck crossover.
4.1.16 - 15 pages: originally posted on pages 810-824, currently archived on 15 Google Docs[1]. It is postes in the bonus section of the site.
References
Edit