Dr. Xaveria is a compie scientist and one of Tye's doctors. They are responsible for Tye's daily medical tests.
Appearance
Edit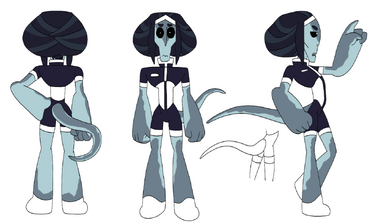 They are tall and slender, with pale grey & medium grey skin and graying hair.[2] They usually prefer to wear their hair up.[3]
Personality
Edit
They are often shown to be very serious, and has a dry sense of humor.
Relationships
Edit
Xaveria maintains a stern and detached attitude towards Tye, but cares about them and wants to cultivate their interests and keep them safe. When we first see Xaveria interact with Tye, they seem very aloof. However, later on they come back to save Tye when the ship is attacked by pirates[4], indicating that perhaps they do have a softer side.
Dr. Xaveria's relationship with Dr. Zehra seems to be awkward. When Zehra teleports in early, they both blush in embarrassment, and Xaveria is annoyed by Zehra's early arrival.[5] However, Xaveria's use of the pronoun "she" in reference to Zehra implies that they were quite close.[6]
Dr. Qurti is shown in a photograph with Xaveria, but it is not clear what kind of relationship they have.[7]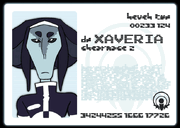 Xaveria is 280 years old.[8]
Xaveria was first mentioned on page 30.
Xaveria was first appears on page 88.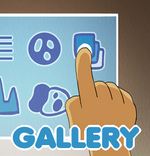 References
Edit